Behind the Scenes*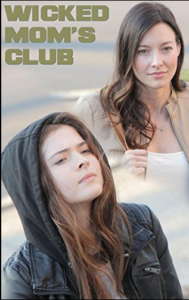 Last March I was cast in a made-for-TV movie whose working title was Momster. It's a continuation in my series of films of grown women behaving badly (ha!). It was picked up by MarVista Entertainment for distribution under the name Mom Wars, but I'm sticking with the name Wicked Mom's Club, because that's the title Lifetime used when they aired it in October and the title it's listed as on IMDb.
The movie stars Jessica Blackmore as Mandy, a single mother looking for a fresh start. I play Doug, her ex-husband. We filmed in Lexington, KY in the early spring. It was unseasonably C.O.L.D. during my outdoor scene. Virginia Tucker, who plays our daughter got to wear a coat and I got to sit in the car a good bit. But Jessica had to stand out in the cold the most. She was a real trooper.
Lane Shefter Bishop directed the film and she was a pleasure to work with. She has a calming presence on set and made me feel completely supported. Bishop has made an interesting career for herself as a producer and director of film and also a speaker and author. I discovered her book Sell Your Story in a Single Sentence while preparing for this movie. It's a great, quick read on the art of pitching an idea. I'd be delighted to work with her again.
Special thanks to my talent agent Kathy Campbell from Heyman Talent and Casting Director Thomas Sullivan getting the opportunity for me!
*Many times when hired for a shoot, an actor is not allowed to publicly share the details. This is to protect the marketing plans of the project and to guard the producers' right to control the way in which their story is first presented. Usually, the restrictions expire after the media is released to the public. This post is shared with permission.